A Family Friendly Lake George Restaurant
Lake George's Most Family Friendly Restaurant!
Sun - Fri: 11:30am - 10:00pm - Sat 11:30am - 11:00pm
(Closed after Colombus Day until May)
The Moose Tooth Grill is a family friendly restaurant in beautiful Lake George Village of upstate New York. We offer a fun atmosphere for dining with your family. So stop by after having some excitement with all Lake George has to offer and appease your hunger and thirst.
Moose tooth has something for everyone! Our menu includes a variety of specialty items for burgers, pizza, beef and chicken, fresh salads, bottomless fries & onion rings. Young guests can enjoy items from our kids menu. Top it off with a fun staff, a player piano, games on TV, and a lot of fun!
During the summer, moose consume thirty to forty pounds of vegetation a day. That would be like you or me eating 7 pounds of salad every day!

During the summer, bulls spend about 25% of their energy growing antlers.

Moose patiently feed for about eight hours every day.

The moose's association with water is so distinctive that moose may appropriately be considered the hippopotamus of the north country.

Vulnerable moose is considerably safer from an attacking wolf when standing in just a few feet of water

A mooses antlers can grow as wide as 6 feet! Thats as wide as a car!

Moose are very good swimmers and can stay under water for 30 seconds or more

If a moose was in your house his head will probably touch your ceiling!

Male moose can weigh 1600 pounds- equal to 28 eight year olds

The plural for moose is moose, not meese or mooses

A moose eats a hundred pounds of vegetation a day...equal to more than 50 heads of lettuce!

A moose foot print can be over 9 inches long. Thats as big as your dads foot!

Chocolate mousse is not made from a moose

The moost famous Hollymoose is Bullwinkle star of the "Rocky and Bullwinkle" TV show

The moose has a facebook page!!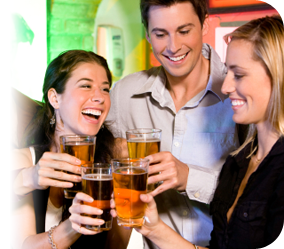 Hey Kids! Dont forget to try our Homemade Moose Root Beer! Starbucks coffee is available for those caffeine cravers as well.

Quench your thirst with one of the largest selections of draft beer in the area. We have 12 draft beers from all over upstate NY York.